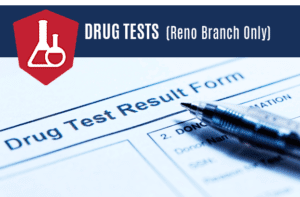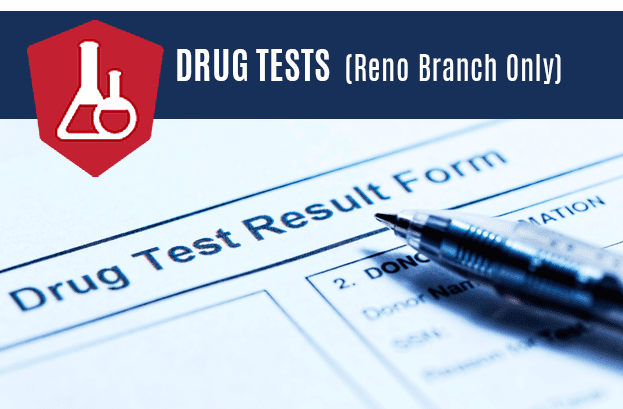 Results same business day or 24-48 business hours. Drug Testing is only available at Fingerprinting Express in Reno, Nevada.
Fingerprinting Express Provides Urine Drug Testing for pre-employment, random drug testing and personal reasons. Drug Testing is ONLY available at the Reno location.
Fingerprinting Express Specializes in:
5 Panel Urine Drug Tests for toxins: Amphetamines, Cocaine, Opiates 300, Phencyclidine (PCP) and Marijuana (THC) –
12 Panel Urine Drug Tests for toxins: Amphetamines, Barbiturates, Benzodiazepines, Cocaine, Methadone, Methamphetamines, MDMA, Opiates 300, Phencyclidine (PCP), Marijuana (THC), Oxycodone and Propoxyphene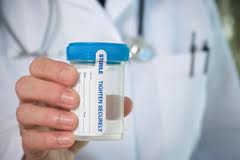 Fingerprinting Express is the collection site for Urine Drug Test specimens.
Our Laboratory partner is licensed; and is a private Reno laboratory that specializes in high-end drug testing.
According to the National Institute on Drug Abuse (NIDA) Nearly 75 percent of all adult
illicit drug users are employed; as are most binge and heavy alcohol users.
Studies show that when compared with non–substance abusers, substance-abusing
employees are more likely to:
Change job(s) frequently
Be late or absent from work
Be less productive Employees
Be involved in a workplace accident
File a workers' compensation claim
Drug Testing F.A.Q. 
Q. Do I have to have a valid Government-Issued I.D. for Drug Testing?
A. Yes, a valid (non-expired government-issued) Driver's License, Passport or I.D. card is necessary for you to get tested.  Expired forms of I.D. will not be accepted.
Q. How long does it take to receive the results?
A. If the result of a drug test is approximately 24-48 hours. Positive results may take longer to process. We can provide same day results if the specimen is received by 1pm, for an additional rush fee.
Q. Can I receive my results in written format?
A. You should receive a notification via fax once your results are in. We can only email or fax a copy of the results upon request. Original paperwork may be provided upon request; the originals are usually kept by the facility and the lab.
Q. Can I visit a testing facility today?
A. Our same-day option allows you to receive results same day.
Requests for same-day testing must be received by 1pm PST.
Q. What is the Chain of Custody Paperwork?
A. This Drug Test Authorization Paperwork is used to record your personal information and also provides information about the collection of your sample. Upon collection of your sample you will receive a copy of this paperwork.
Q. Do I have to provide personal information or can I remain anonymous?
A. In order for us to properly process your urine drug test it is necessary to
provide your personal information. Your information remains strictly confidential.
Q. Do you offer personal Drug Testing or only Drug Testing for pre-employment?
A. We provide Drug Testing for a variety of reasons. Some reasons may include pre-employment, random drug testing, suspicion or cause, post accident, return to duty, follow up or for personal reasons. Whatever the reason, we will provide you with a comfortable facility, friendly staff and most professional Drug Testing services available.
Call us for details 775-322-5587