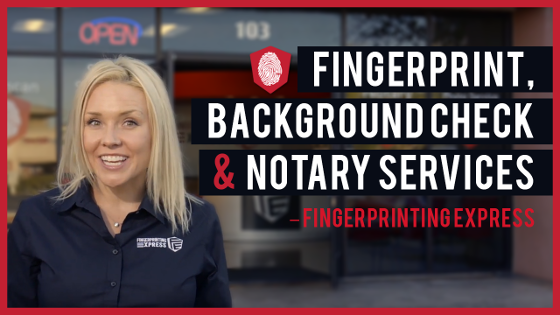 Fingerprinting Express offers the best available fingerprinting technology and techniques! Our process is aimed at saving you time and headache…
To best serve our customers, we have evolved into a one-stop shop offering a full slate of services typically needed by people seeking fingerprint-background checks. This saves our customers the time and inconvenience of having to go to three or four (or more) locations to complete the process for background checks and other required services for employment, licensure or other reasons.
For example, a customer needing to submit fingerprints to a governmental agency may also need a notary public, photocopying, faxing, and photography for an ID card.
Find A Store – Walk-Ins Welcome
First of all extremely clean area!!! As soon as I got there very professional and with a high level of customer services.

Vicente G.
Yelp
I was amazed at what a professional establishment this was. And I loved that the staff all wore lab coats! It felt like I was on CSI.

Lindsey P.
Facebook
Fantastic one stop shop for simple documentation services! Great prices, quick service, fantastic staff!

Anna S.
Google
Very welcoming atmosphere, professionalism, expertise and excellent service by Dave made the entire process comfortable and a pleasant experience.

Jelhadz J.
Google
This place is awesome I wish I would've known about this years ago! Needed a background check for a teaching abroad visa.

Marwood F.
Yelp
The staff was friendly and quick. Easiest fingerprinting experience I have ever had!

Jason H.
Google
My husband and I were able to update our simple wills and health care directive very quickly and efficiently utilizing your notary services.

Karon S.
BBB
Very nice, clean, and super friendly. Very fast service as well!

Jennifer V.
Google
12 of us came in yesterday all at once and she got us all in in a timely manner, she was patient and kind and did an amazing job, definitely recommend!

Trinity R.
Google
They got me in and out really quick, they were very nice and they were great with my son. Definitely recommend this place!!!

Jordawn A.
Google