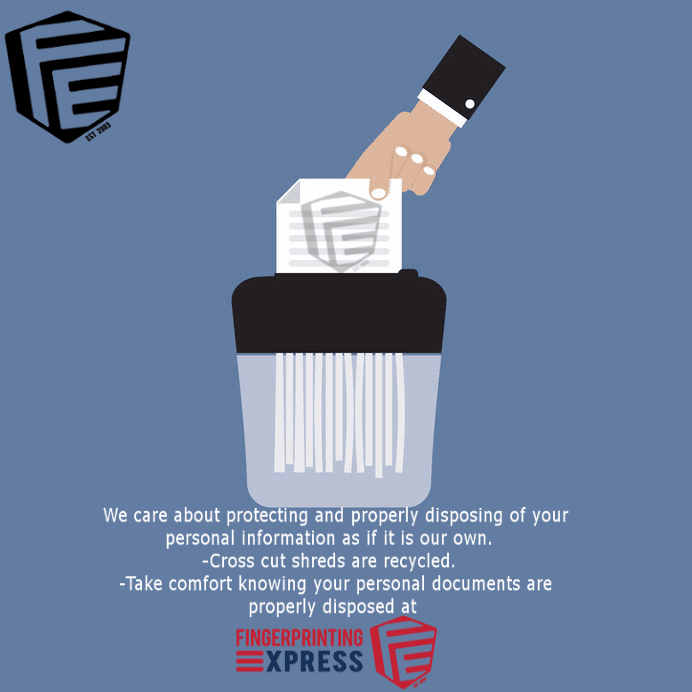 Shredding personal and confidential documents is becoming exceedingly important for many reasons. Privacy laws are becoming more stringent, and thieves are always looking for an opportunity to get identity information. Even just a first name is considered to be personally identifiable information (PII) and documents containing any PII should always be shredded, not just thrown in the trash.
The 2017 Identity Fraud Study, released by Javelin Strategy & Research, found that $16 billion was stolen from 15.4 million U.S. consumers in 2016, compared with $15.3 billion and 13.1 million victims a year earlier.
In the past six years identity thieves have stolen over $107 billion.
Secure document shredding is more important than ever. Fingerprinting Express customers take comfort knowing that their information has been properly handled and destroyed. Fingerprinting Express staff are vetted with drug test screening and fingerprint background checks. Integrity and responsibility are traits we take pride in having. Our training is top notch for protecting personal information in all of the services that we provide. We have a shred all policy of any document in our store and we will help you properly shred and dispose of documents when cleaning out old files. Our shredding systems can shred old credit cards, CD's, staples and paperclips.
Fingerprinting Express's secure shredding service includes the proper destruction of documents. (We then recycle the paper — preventing unnecessary waste in the landfill, and assuring your documents are not pieced back together.) We make it easy to drop off your shredding project at any of our convenient locations, during open business hours.