Since 2003, Fingerprinting Express has been a go-to source for professional quality photos guaranteed to be the right size and requirements for official documents. We make sure you like your photo before it gets printed, and that everything is to spec for identification and licensing. Please do not wear white in your passport photo. No glasses, no uniforms, no hats, no earrings or anything distracting.
Photo services include:
US Passport
International Passport or Visa
Visa
Gaming License
Massage License
Cosmetology License
Security License
Marijuana Agent License
And more!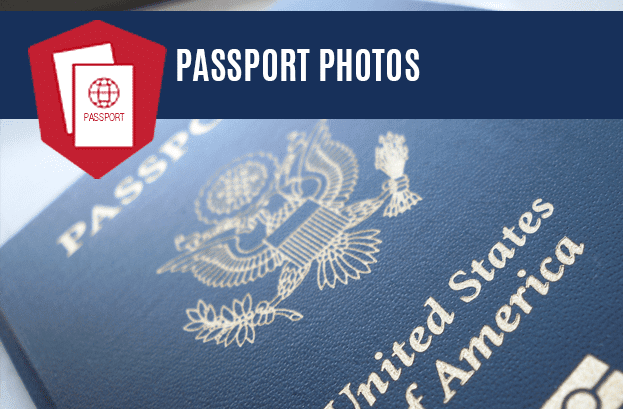 When you get your Passport Photo at Fingerprinting Express we will provide you with the US Passport Application FREE!
We comply with all guidelines required for US passports and other licenses. You don't have to guess if you've got the right photo – you can get it right the first time with us! Your photo is quickly processed in minutes.
Please note: Fingerprinting Express is NOT the place for processing passport applications or other licensing – we simply provide top quality photos with the exact specs required. US Passport renewals are easy and you can mail in your application bypassing the long wait at the USPS Passport Office.
If you have any questions at all, please review the FAQ below, and don't hesitate to give us a call!
Frequently Asked Questions
What are the photo requirements?

The basic requirement sizes for a US Passport is 2"x2" full color photo with a white background on professional photo paper. The individual must be facing forward, no teeth showing, with eyes open. It's important to have the proper photo exposure as well. Off color photos risk being rejected.
What should I wear?

Wear clothing that covers your shoulders (we have had tube tops rejected due to "no clothing showing," so covering the shoulders is a must). Avoid wearing white, as white clothing on a white background can make you difficult to see. Avoid big bows, earrings, sunglasses or hats. You cannot wear anything distracting from the face. Hair should be tucked behind the ears or pulled back.
Can I wear glasses? What about prescription glasses?
No, you may not wear glasses that are tinted, and we prefer you remove glasses for the photo to prevent glare. If you wear prescription glasses, you may not wear your glasses in the photo.
How do I apply for my United States Passport?
When applying for your passport, begin by filling out an application. We usually have the passport applications available, and you can also download it here.
Next, collect your supporting identity documents. You will need:
• Proof of US Citizenship and a photocopy (certified, original birth certificate or Naturalization Certificate)
Proof of identity and a photocopy
Proof of Relationship if under the age of 16
If you have gotten married and/or changed your name, you will also need the original, certified copy of that certificate showing the name change
Passport photo
Application fees (in most cases: 16 and older, $97 – under 16, $82)
Submit your application. If you are applying for an initial passport you will need to make an appointment and submit your application at a United States Post Office.
Passport renewals can be applied for by mail. Learn more about renewal here. For an additional fee, you can also submit for expedited renewal.
Can I smile in my passport photo?

The rules are strict and call for a neutral expression with no teeth showing in your passport photo.
How many photos do I need to submit for my US Passport?
Only one photo is required to submit for most US Passport applications. Because they used to require two identical photos, we will print in a set of two (as do most other services). Affix one photo to your application.
Can I submit an old photo?
Only an original photo may be submitted for your passport. Passport photos must be recently taken – generally within 6 months.
Can uniforms be worn in the photo?
It is not recommended that you wear a work uniform in the passport photo. Normal street clothes are preferred.
Can a parent or guardian appear in the photo with a minor child or baby?

No, the minor must be the only subject in the photo. We have tricks to help babies and children comply with an acceptable photo. Babies are laid on their backs on a white background. Toddlers are the toughest subjects! We will work relentlessly to capture the best possible photo of your little one(s).