Fingerprint Processes
Fingerprinting Express collects fingerprints using many different processes and techniques!
There are several different ways to process fingerprints. Livescan with the electronic submission is not currently available over Nevada state lines. Out of state fingerprints will require hard fingerprint cards.
With state-of-the-art, digital Livescan inkless technology. Livescan processes fingerprints directly to state agencies and to the FBI — allowing results for background checks to come back within days (compared to months for ink fingerprinting on fingerprint cards).
Before Your Fingerprinting Express Appointment (What You Need To Know)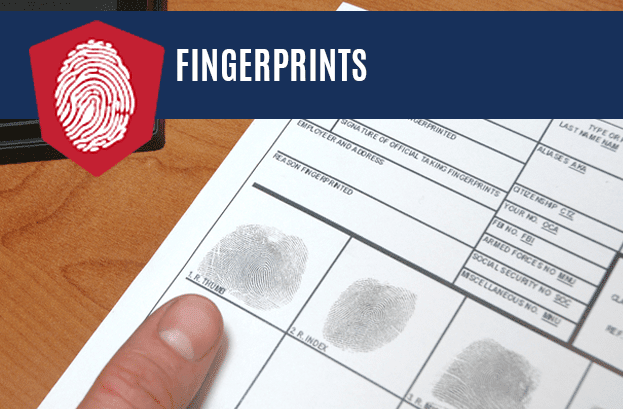 Livescan
Besides yielding results much faster, Livescan technology allows fingerprinting without the mess of old-fashioned ink systems and prevents the rejection of poor-quality prints. The LiveScan technology Fingerprinting Express uses is superior resolution equipment to the standard fingerprinting used by law enforcement agencies and is accepted by regulatory agencies at all levels of government. Fingerprinting Express often fixes the unnecessarily rejected mistakes of competitors and operator errors from law enforcement.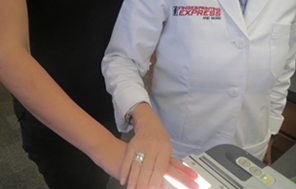 Employment and Licensing Fingerprinting within Nevada
Livescan Fingerprinting with Secure Electronic processing is available within the state of Nevada and FBI fingerprint background checks for employment and licensing purposes. Your employer or licensing board may provide you with paperwork and/or livescan instructions. The Livescan process is only available for active accounts with the Nevada Department of Public Safety. Livescan with the electronic submission is available in Nevada and Florida. Out of state fingerprints other than Nevada and Florida will require hard fingerprint cards to be mailed in. Livescan fingerprinting with the electronic submission is the fastest method to process a fingerprint background check for employment reasons and is sent through a secure internet portal.  Fingerprint Cards can take much longer to process.
Fingerprint Hard Cards
If you receive fingerprint cards from Fingerprinting Express, we will verify your identity and place your fingerprints on the fingerprint cards (most commonly used fingerprint card is the FD 258 and FD 259 cards). We will give you back the fingerprint cards to be submitted for the fingerprint background check. Please make sure to bring any envelopes provided and all paperwork in order for us to properly process your fingerprint request. This method of fingerprint submissions takes the longest to receive the background check results. This process can be an estimated 8-16+ weeks for results, depending on the agency.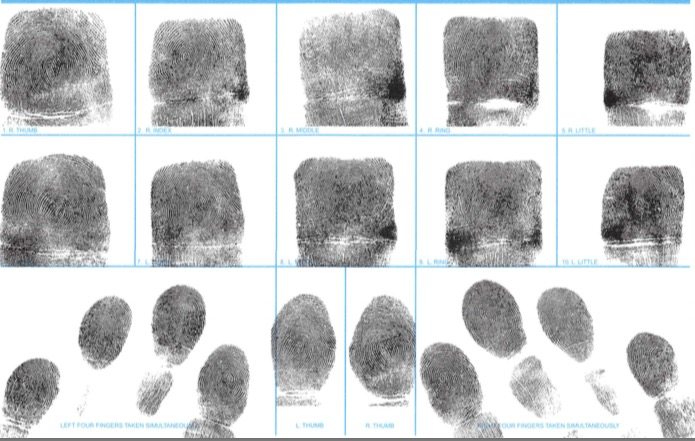 Adoptions, Work or Student Visas
Our FBI Express System is the fastest possible way to receive your own copy of your personal FBI fingerprint background check results. This system is not to be used for employment and licensing purposes. Fingerprinting Express has had the FBI report populated and in our customer's hands as soon as 45 minutes after the customer was fingerprinted. This is much faster than the average, however, you will be able to view the results online within 24 hours of being fingerprinted (so long as your fingerprints are legible and not rejected for any reason). We do our best to capture the best possible fingerprints you provide. For more information on this system please click here: FBI EXPRESS
Ink
Fingerprinting Express also is experienced in collecting fingerprints with old-fashioned ink. We have the FBI FD-258 fingerprint cards in stock! Customers do not have to bring their own fingerprint cards unless the fingerprint cards were provided.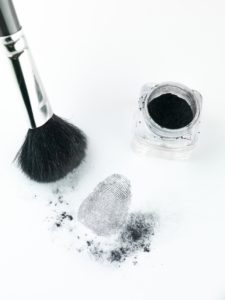 Frequently Asked Fingerprinting Questions
Q. What are your prices for fingerprints?
A. Fingerprinting prices vary, depending on what reason or industry you are being fingerprinted. We work with hundreds of boards, divisions, and agencies. Hard Cards we do not collect the background fees. Most Livescan transactions we do have to collect the background fees. Call 800-919-0227 to receive a quick and accurate fingerprinting quote. Fingerprinting Express will match any competitor pricing for the same fingerprinting service.
Q. Do you keep a database of fingerprints?
A. No. Fingerprinting Express does not keep databases of fingerprints on file. It is our company policy that once your fingerprints are fully processed the record is deleted. We promise to never sell, trade or exchange your personal information other than for the fingerprint background check service you hire us to complete on your behalf.
Q. Is my social security number required to complete fingerprinting?
A. You have the right to refuse your social security number on the record however, we do not recommend it. All Fingerprinting Express staff are fingerprint background checked and have extensive training regarding handling your personal information. Fingerprinting Express also has a safe connection to securely submit your data. If your absent social creates any problems or delays the guarantee by Fingerprinting Express is voided. This also depends on the board or division. Some boards are stricter on using your social security number than others. All Fingerprinting Express stores are also specially designed to protect your personal information.
Q. Are you a vendor for the Nevada Nursing Board?
A. Yes, we are an approved vendor and process fast Livescan fingerprint background checks for the Nevada Nursing Board. We also fingerprint for traveling nurses and out of state nursing boards.
Q. Where can I go to get Livescan fingerprints for my Nevada Real Estate License?
A. Fingerprinting Express has convenient locations throughout Nevada and all locations are authorized fingerprint vendors for the Nevada Real Estate Division.
Q. I paid my licensing fees. Is the fingerprint fee included?
A. No. Some of the state boards and divisions: Nevada Gaming Control Board, Private Investigator Licensing Board, Accountancy Board, Department of Education and a few others do include the state and FBI background fees in the licensing fee, which does not include the fingerprinting fees. The fingerprinting service fees must be paid at the time of service. Other boards and divisions: Nevada Contractor's Board, Nevada Nursing Board, Healthcare Industry etc… do not collect the state and FBI background fees in the licensing fee, the fingerprint collection facility must collect these background fees in addition to the fingerprinting fee.
Q. I am getting my Nevada Massage Board License. I need a Notary Public, a Passport Photo, and my fingerprints in order to get licensed. Can you help with all of these services?
A. Yes. We always have a Notary Public available during open business hours. We provide the beauty license photos and we can complete your fingerprint request all at the same time.
Q. I need fingerprints and a photo for my Nevada Private Investigator License Board (PILB). What is the process?
A. For your Nevada Guard Card you must first register and pay the licensing fee to the PILB. After you have finished this process you may be fingerprinted and have your photo taken. Fingerprinting Express can scan your Fingerprint Verification Receipt and Photo and send to the PILB for an additional fee.
Q. My paperwork says that I need to have hard fingerprint cards completed. Does that mean that I must complete ink fingerprints?
A. Fingerprinting Express invests in the printers and software to print the hard cards from the Livescan system. We also have the old fashion ink method available.
Q. I left your office with my FD258 fingerprint hard cards and I don't know what to do next.
A. The fingerprint cards must be mailed for processing. Check with your employer if they mail them or if you have to mail them.
Q. How long are my fingerprint cards good for?
A. Fingerprint Cards are generally good for three-six months. Some states or agencies may allow be twelve months. You will want to check with your employer or licensing board for clarification on their requirements.
Q. I have heard that fingerprints don't change. Why do I need to submit fingerprints for my job or license renewal?
A. Fingerprints don't change but criminal history records do. They are checking to make sure you have not committed any disqualifying crimes since the last time you completed the process. When we collect fingerprints for civilian purposes, fingerprints are scanned against the criminal database.
Q. I need to have my fingerprints done; I don't think that I also need a background check.
A. No one will take your fingerprints just to keep them on file. The fingerprints are run against the criminal database to make sure you don't have any disqualifying crimes.
Q. Is there a civilian database of fingerprints?
A. To our knowledge, there is not a civilian fingerprint database. Fingerprinting Express does not keep fingerprints on file and does not keep civilian fingerprint databases. The fingerprints for civilian purposes are scanned against the state repository and FBI criminal databases.
Q. What database are the fingerprint records run against?
A. The FBI has the largest criminal database in the world. This database was called the Automated Fingerprint Identification System (AFIS) In 2011, the FBI implemented the Next Generation Information System (NGI) that also includes facial recognition and DNA.
Q. Why are fingerprints for employment and licensing run against both the state and FBI criminal repository records?
A. The criminal records are booked at the local police station and reported to the state repository. The state then reports the criminal records to the FBI. For accuracy of criminal history reporting, fingerprints are scanned against both State and FBI databases.
Q. I need a background check. Can I submit fingerprints via Livescan?
A. We can submit Livescan fingerprints for most agencies. We can also submit Livescan fingerprints as an FBI Channeler for personal purposes. We pride ourselves on offering our customers the best and fastest services available.
Q. Where can I get an Apostille for traveling outside of the United States and I need it fast?
A. Fingerprinting Express can assist you with this request. We have our FBI Express system available to US Citizens and Permanent Residents of the United States. We can also assist with this Apostille process for undocumented customers.
Q. I have hard to read fingerprints and have had them rejected in the past. What do I need if they keep getting rejected?
A. Some people work their fingers to the bone! While it is not common to wear down fingerprints it can happen. You must submit the fingerprint record according to the lawful reason why you need to obtain a fingerprint background check. For employment and licensing, if the fingerprints are rejected the first time they will require you to submit another set of fingerprints. Generally, the FBI doesn't reject them more than twice for employment purposes. If they cannot scan the fingerprints and you have exhausted those options the FBI has procedures to facilitate that request.
Q: How long will it take to get the results of the background check?
A: Fingerprints that are electronically transmitted to DPS & FBI generally take 5-30* days for results. FBI Express background check results are available within 24 hours of being fingerprinted. If the fingerprint cards are manually sent to DPS & FBI it will take 2-6* months to receive the results. *Some divisions and/or boards may take longer to process the results and applications. Please check with the agency for process times.
Q: Who gets the results of the fingerprint background check?
A: If the fingerprint background check is being requested by an employer or an industry i.e. Contractor's Board, Real Estate, Gaming etc… they will get the results directly. If an individual person requests the fingerprint background check on themselves the requester will get the results.
Q: Do you come on location for Mo